Why does your base roster have that number of staff
with that level of skill on those days for those hours?
Is your current structure, workforce, and base roster a function of:
History

– incremental change over time without strategic review?

Budget 

– anchoring you to a past with little relationship to the present

Unrealistic Estimates 

– guesstimates not forecast demand or actual throughput and revenue
Workforce Planning and Labour Management
It's past time for strategy, demand & throughput to define organisational structure and headcount by employee, contractor, or outsourced provider.
Labour is a large percentage of total expenditure in many industries and needs to be effectively managed to:
deliver a consistently positive customer experience 

match labour policy and historical headcount to future demand and throughput

build a diverse, agile, and change-ready workforce

roster the right number of staff with the right skills in the right place for the right amount of time

optimise productivity – output per shift/hour divided by input per shift/hour

measure return on labour investment – revenue per FTE staff person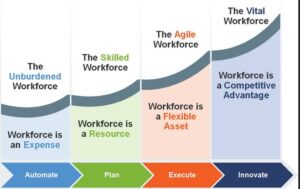 Customer Experience
Workforce Planning delivers a positive customer experience by overcoming silos in a traditional business structure.  
A positive customer experience requires the right number of staff with the right skills at the right time for the right amount of time with essential technical and interpersonal skills. Even when most contribute to a positive customer experience, any negative contribution undermines the customer experience and threatens lifetime customer value.
Online sales, automation, IoT and chatbots impact the technical skills and the number of Full-Time Equivalent staff required. Yet their value is questionable unless they enhance the customer experience.
Workforce Plan
Effective labour Management employs skills and capability flexibly and productively. Roster variance can undermine financial performance without improving the customer experience.
Blue Chip Consulting Group facilitate agreement on a Workforce Plan placing capability along the value stream to deliver a positive customer experience, match demand with supply, and manage variance.
A Workforce Plan  defines:
Change – time frame, growth, decline, merger, acquisition
Composition –  options of full time, part-time, casual, contract, outsourced,
Culture – CX focused, cross-functional collaboration,
Digital – opportunities to transform & streamline flow to enhance the customer experience
Diversity – multi-disciplinary, gender, age, ethnicity & race, experience
Experience – industry, other industry, specific/related/unrelated role
Legal – IP, restraint of trade: non-compete clauses
Location –office-based, work from home,
Motivation – performance measurement, quality, productivity, flexibility, drive, absence
Skills(technical, personal, interpersonal) –required, need to be developed or recruited
Tools – assets, IoT, IT Architecture, software, computers, training
Retaining a high-performing workforce, to meet the objectives of an agreed Workforce Plan, can:
transition a business beyond survival to performance improvement and growth

deliver a consistently positive customer experience through a

 best-fit roster (base & variable)

measure performance – revenue per FTE and output per unit of input

track time and attendance and manage absence and leave
Contact John Cleary on +61 411 522 521 to discuss your Workforce Planning & Labour Management needs.